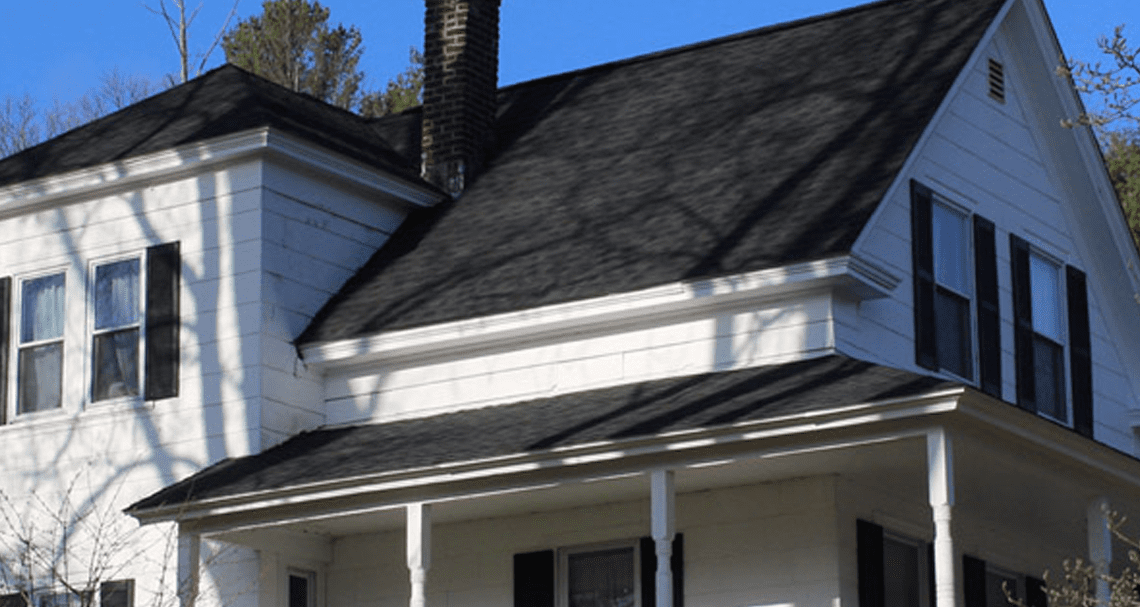 While it's true that beauty is in the eyes of the beholder, a beautifully crafted roof is a sight to behold when it comes to the exterior of your Bedford, MA home. A well-designed roof can be a fascinating part of your home that draws attention from everyone who passes by.
Your roof protects you and your family from elements, helps control the temperature in your home, and can even improve your home's energy efficiency. All of these reasons are why we encourage all homeowners to know the signs that a roof repair or replacement is needed.
Granule loss: If you're seeing granules in your gutters or downspouts, it could be a sign that your shingles need to be replaced. Without those granules, your roof is more vulnerable to damage from the sun and weather.
Moss or algae growth: Some moss or algae on your roof isn't always a cause of concern, but if it's getting out of hand, it could mean your roof is holding onto moisture and needs to be repaired or replaced.
Sunlight in the attic: If you see light coming through your attic, it means there are holes or gaps in your roof. That means water, critters, and other unwanted guests can get in too.
Roof leaks: Water stains on your ceiling or walls mean you have a leaky roof. Even a small leak can cause significant damage over time.
If you're in the market for a new roof, it's recommended to consult with an experienced roofing contractor in Bedford, MA who values quality workmanship.
When it comes to choosing a roofing contractor, you want someone who will do the job right and ensure that your new roof lasts for years to come. Don't fall for the trap of choosing the cheapest option because those low prices often come with a catch, like cheap materials or rushed installations. Instead, choose a contractor who shares your commitment to quality and will treat your home with the care it deserves.
When it comes to finding the perfect roofing contractor in Bedford, you don't want to leave anything to chance. That's why we've put together a few simple questions that you can ask any potential contractor when considering a roof repair or new installation.
Are you licensed and insured? 

What is the quality of the materials your company uses? 

What is the quality of the materials your company uses? 

What is your track record?

What are your credentials and qualifications? 

What kind of warranty do you offer and who is behind it?

Where can I find reviews and recom­mendations on your company?

Have you done similar projects in this area?

Can you give me a rough idea of the cost and timeline for this project? 

What are my options for financing the project? 

Do you offer any payment plans or financing options to help me manage the cost?

How do you ensure the safety of your workers and my property during the project? 

What kind of training do your workers receive to make sure they're up-to-date on safety procedures?
Installing roofs is challenging. Roofers charge more for their services due to the specialized skills, tools, and materials required to construct or repair a roof properly, as well as the risks and costs associated with working in elevated positions.
The cost estimates roofers provide their clients take into account the long hours, various weather conditions, potential hazards, cost of worker's compensation, the expense of materials, and operating costs.
If you're curious about the extent of your project, or you just want to make sure that you're getting a fair deal, Northeast Home & Energy is more than happy to provide you with a free quote.
Obtaining quotes from three or more different roofing contractors in Bedford, MA will allow you to compare costs. This will give you an idea of what the typical cost should be and help you avoid paying too much for the work. Keep in mind that the cheapest option doesn't equal the best option.
Make sure each roofing quote includes a thorough breakdown of the costs when comparing quotes. Look out for any extra costs or fees that weren't disclosed in the quote. You should also take into account the caliber of the supplies each contractor plans to use. Although they may be less expensive, less expensive materials might not last as long or offer the protection you require. In addition to this, look for references and read reviews to find out what other clients think of each contractor's work.
Your roofing contract is a crucial legal document that outlines the scope of work, materials, and pricing for your roofing project. As a homeowner, it's important to carefully review and scrutinize the details of your roofing contract to ensure that you're getting the best value for your investment.
Here are some things to look for:
Name, phone number, and address of both parties

Licenses, permits, zoning notices, and insurance

The type of work that is going to be completed

How long the project is expected to take

An itemized list of materials that will be used

Any warranties that the roofing contractor uses

Payment terms and schedule

Provisions for unforeseen circumstances
Now that you are aware of what to look for in a roofing contract, it is crucial to be aware of what to watch out for:
A lack of detail or very vague wording

A low-priced estimate

No insurance or license information 

Payment terms that demand the full payment upfront

Unprofessional language

Lack of clarity
When constructing a new roof, a few key components are needed. These elements include shingles, flashing, ventilation, and underlayment. Flashing helps prevent leaks around chimneys and other roof features, and the underlayment adds an additional barrier of moisture defense to your roof. The roof and the interior of the house will both be protected from damage when the roofing contractor uses the right elements.
It's usually cheaper to reroof than to tear off the old roof and install a completely new one. If the roof structure is still in good shape, a roofing contractor can just add a new layer of shingles on top of the old ones. That way, homeowners can save time and money on labor costs and disposal fees. Plus, it's less disruptive to a homeowner's daily routine since the job is finished quicker.
When it comes to choosing a roofing contractor in Bedford, MA, Northeast Home & Energy should be at the top of your list. You can be sure that your roofing project will be handled with the utmost care thanks to a team of knowledgeable experts who have received in-depth training in the most recent roofing techniques. Don't settle for anything less than the best! Choose Northeast Home & Energy for all your roofing needs. Contact us today to get a free estimate!