They repaired some vinyl edging professionally and reasonably priced.

I've used them twice for repair projects and each time they've been professional, responsive and courteous. Will be using them again soon, which is really the biggest endorsement I can give.

timmccrthy
18:42 19 Jan 23
This review is LONG overdue.Every day is a time to be grateful for all we have: family, friends and especially for good, caring people who Truly make a difference in our own lives as well as in other lives around us.Mark Johnson, of M.A. Restoration, has always been our "go-to"-person for help to repair and update our home. When we asked Mark for a roofer-reference, he contacted John Prunier of Northeast Home and Energy (North Grafton) to help solve our problem after our former roofer "dropped the ball" by leaving us without hope of finishing a barely-begun roofing project. John came immediately to our aid. He coordinated the removal of our 22-year old roof by: taking care of the required town fee; stripping the old shingles off; repairing of all the leaks; removing old boards; and, by straightening a dip in the roof. Then he replaced the entire rooftop of our house and attached-garage by installing extremely high, A+-quality, GAF architectural shingles. John never left our side. He kept us updated every day via phone, email and often, he came in person to see if we had any questions or any other needs regarding the roof. He had to search everywhere in his vast network to find enough shingles that matched the partial shipment that the former roofer had left behind months before in our garage. After several days of searching, he found the exact color-match and number of extra shingles we needed in another state! John also contacted Mike, the owner of The Dumpster Diver, who gave us a dumpster to help complete the roofing project.John Prunier is a caring, dynamic person who successfully and effortlessly coordinated every last detail of this roofing project to its completion. We now have the roof we needed two years ago thanks to this extraordinary man and his expertise. We recommend John Prunier without reservation for his integrity, extraordinary work ethic, coordinating skills, and whose extreme generosity brought a very bad situation to an outstanding and satisfying conclusion.

Northeast home is the best company I've had the pleasure of doing business with. They confirm appointments, call and text and then perform excellent service! Today, Kyle Houston arrived earlier than expected and repaired our rubber roof in short time!Kyle is very knowledgeable and is a pleasure to work with.I highly recommend this company for your roofing needs!

Northeast Home & Energy was professional in all correspondents as well as when they came to my home and prompt on the day of repair. I felt at ease working with them and would highly recommend them for large jobs or even small repairs such as mine. I was very happy that they we also willing to drive all the way out to Tewksbury!-

I called to get a quote to repair a ridge vent that was buckling. Kyle (Project manager) came the next day and found that a popped nail had pushed the ridge vent up. He removed the nail and caulked several other openings that he found while inspecting my roof, then REFUSED TO TAKE MY MONEY when I tried to pay him. Great service, and I'll call them first for all my roofing needs moving forward.

At Northeast Home & Energy, we take great pride in providing top-quality roof repair services to homeowners in the Massachusetts. With years of experience and a team of highly skilled professionals, we are committed to ensuring that our customers' roofs are in excellent condition and able to withstand the harsh weather conditions prevalent in the area.
Our range of roof repair services is comprehensive and tailored to meet the specific needs of each individual customer. Whether you're dealing with a minor leak, missing shingles, or more significant structural damage, our team has the expertise to handle it all. We begin the process by conducting a thorough inspection of your roof to assess the extent of the damage and identify any underlying issues.
Once we have a clear understanding of the repairs required, we work closely with our customers to develop a personalized repair plan. Our team utilizes advanced techniques and high-quality materials to ensure that every repair is durable, long-lasting, and aesthetically pleasing. Whether your roof requires shingle replacement, flashing repairs, gutter realignment, or any other repair work, we have the knowledge and tools to get the job done right.
Northeast Home & Energy offers a variety of roof repair services. While the specific services may vary, depending on the company's offerings and expertise, here are some common types of roof repair services that they may provide:
Leak Repair: Addressing and fixing roof leaks caused by damaged shingles, flashing, or other issues.
Shingle Replacement: Replacing damaged or missing shingles to ensure proper roof protection and aesthetic appeal.
Flashing Repair: Repairing or replacing damaged flashing around chimneys, vents, skylights, or other roof protrusions to prevent water intrusion.
Roof Inspection: Thoroughly assessing the roof's condition to identify any existing or potential issues and recommending appropriate repairs.
Fascia and Soffit Repair: Repairing or replacing damaged fascia and soffit boards to maintain the structural integrity of the roof and prevent moisture-related problems.
Emergency Roof Repairs: Providing immediate repair services in case of severe storm damage, fallen trees, or other emergencies to prevent further structural damage or water intrusion.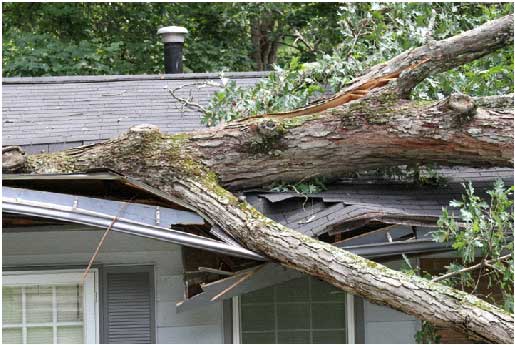 New England weather can be unexpected. Wind, rain, hail, and snow can all take a toll on your roof. If you have a roofing emergency, you need a solution—fast. That's where Northeast Home & Energy comes in. Whether you have a leak, a collapsed roof, or any other weather damage, we have the experience and equipment to repair any problem. We send our team out to your home as quickly as possible to mitigate any further damage to your roof and house.
 You can always rest easy knowing that as a family-run business, we are dedicated to treating your home as if it were our own and providing each client with high-quality roofing materials, great customer service, and efficient work on every roofing job.
Fallen trees and branches
Wind damage to shingles and decking
Airborne debris
Ice dams
Lack of maintenance
Natural wear and tear
Poor installation
Broken or damaged flashing at chimneys, vent stacks, and dormers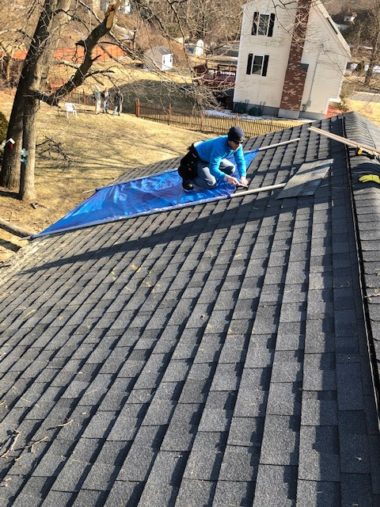 Proper care and maintenance can help ensure that your roof lasts. However, some damage is not preventable. When roofing emergencies happen, call Northeast Home & Energy. We can fix the damage quickly so your family can be safe and comfortable. If the damage is beyond repair, we offer new roof installation services as well.
Don't go up on the roof alone - Being on the roof can be dangerous in the best of conditions. A damaged roof can be even more unstable and unsafe. Let us be the first to check things out.
Cover the interior - Use a tarp of plastic sheeting to protect the rest of your home from leaks and debris.
Inspect the roof visually - You can inspect your roof from the ground. Look for debris and damage so you can give your roofer as much information as possible.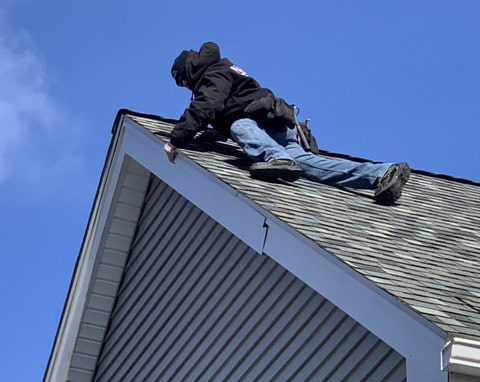 Water damage to your roof deck is particularly dangerous because it can spread throughout your home without you noticing it. If you have drywall or paneling under your ceiling, water can travel even further before you can see the damage to roofing systems. Any moisture that gets inside can harm your insulation, weaken your home's structure, and/or encourage mold, mildew, & fungus. A big enough leak can also destroy thousands of dollars worth of your property and belongings. If a leak goes unnoticed, the damage may be beyond repair, and you may need a complete roof replacement.
Depending on the roofing materials, your roof can last anywhere between 15 and 50 years. Proper maintenance of roofing systems is critical in order to extend the life of your roof. Routine maintenance and spot repairs can drastically improve your roof's lifespan. Overlooking minor roofing deficiencies as they arise can rapidly result in a much more serious situation.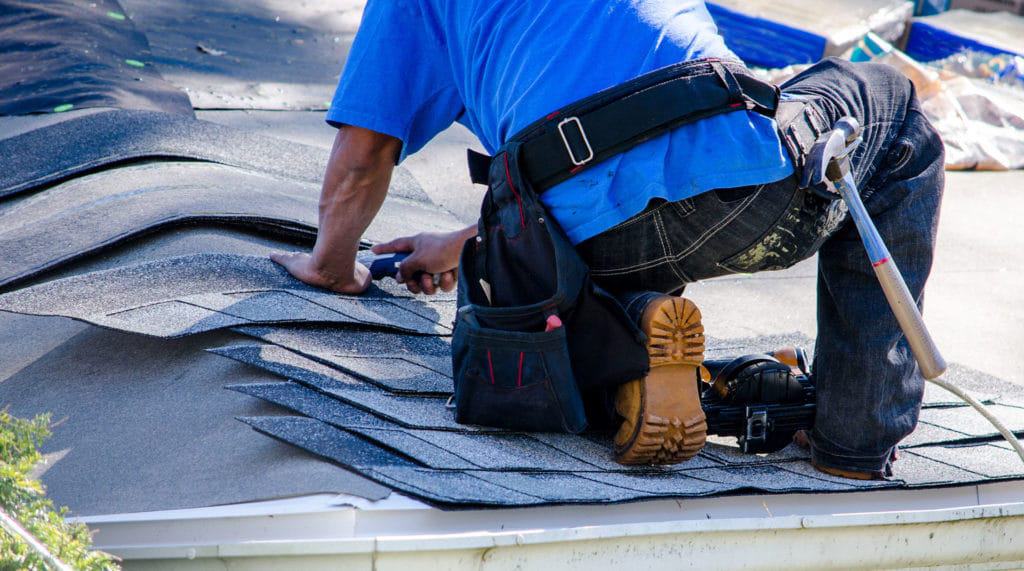 New England weather can be especially harsh on roofs. After a significant storm, it is imperative that your roof be inspected as soon as possible. One of our roofers can detect damage that may not be visible to the untrained eye. As part of our inspection, your Northeast Home & Energy roofing expert will inspect the roof, flashing, skylights, and gutters. Whether you need your roof repaired or a new roof installation, our professional roofing contractors provide quality work and great customer service. Contact us for a free estimate.
You need a solid roof deck to safeguard your home and everything in it. Your roof shields you and your family from the wind, rain, and snow. Unfortunately, especially in New England, the elements are constantly attacking your home and roof. Over time, your roof system can weaken and lose its integrity. When this happens, your roof may need repair or even complete roof replacement.
Whether you have a minor roof leak, significant storm damage, or anything in between, Northeast Home & Energy will take care of you and your home. As a family-run business, we pride ourselves on providing excellent customer service. We are committed to open and honest communication throughout the entire process. We promise to treat your home as if it were our own.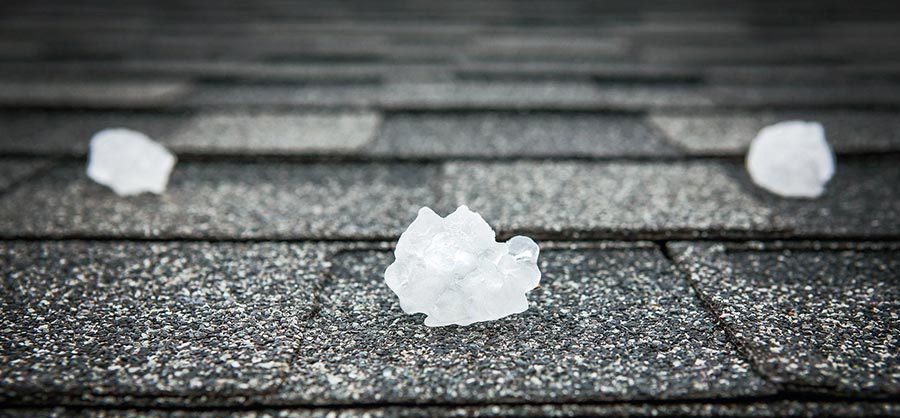 In New England, we often see hail as big as quarters! When those ice balls hit your roof at high speed during a hail storm, your roof takes a beating, and it can cause major dents and damage. It's no wonder that severe hail storms can do thousands of dollars of damage to roofs all across Massachusetts and Rhode Island.
During a hail storm, your roof, shingles, gutters, skylights, and vent hoods are vulnerable to harm. If you believe your roof has been damaged in a storm, call the roofing specialists at Northeast Home & Energy. We will inspect your roof for free and determine what damage, if any, your roof has sustained. We can also find leaks that may not be noticeable to the untrained eye but could cause significant harm to your home's structure.
Whether you need a simple repair or an entire roof replacement or repair services, Northeast Home & Energy will get the job done in a timely manner and correctly. We are a family run business dedicated to complete homeowner satisfaction!
Free roof inspections in order to determine the minor or extensive damage caused by the hail, including:
Roof shingles

Gutters

Skylights

Chimney flashing and caps

Vent hoods and stacks
After identifying the extent of the roof damage, we offer timely, high-quality repairs and service. Our skilled roof technicians have decades of experience fixing storm-damaged roofs, so you know the job will get done right.
Hail damages your roof differently than rain, wind, or snow. It also varies in how it affects different roofing materials. Other factors, like the angle at your roof slopes, can also affect the type and extent of damage from hail.
If you have asphalt shingles, the most common type of residential shingles, hail can crush or dent your roof. In addition, shingles can break, and tabs can crack. Still, hail is more likely to harm the granules on your roof, either driving them deep into the shingle mat material or removing them entirely. Because granules shield your asphalt shingles from sun damage and UV degradation, hail damage to granules can significantly shorten the lifespan of your shingles.
If you have wood shingles on your home, your roof is especially susceptible to cracked shingles. Hail will split your wood shingles along the grain. This often leads to some shingles detaching entirely from your roof.
Slate roofs can also be damaged by hail. When it hits the slate, the slate can randomly crack and potentially slide off of your roof. It is important to reach out to your insurance company to see what coverage you have.
Be sure to check out all of the roof repairing and replacing services we offer to restore your roof after hail damage.