The roof is one of the most important parts of your home as it provides the first line of defense against rain, wind storm storms, and other impacts related to harsh weather conditions. It also provides insulation protection to your loved ones and household items. Therefore, you should take measures such as regular repair and maintenance to ensure the roof is always in the best condition.
However, unprecedented phenomena such as storms may interfere with your roof's integrity, affecting its ability to provide the needed shelter and requiring emergency repair services. Let's look at some frequently asked questions about roof repairs, including what constitutes an emergency roof repair in Worcester, MA, how to handle it, and when to call a professional full service roofing company.
Roof emergency refers to any situation where the roof suffers severe damage, and there's a risk of debris and water penetrating your property. Failure to fix the situation immediately may result in property damage and safety and comfort concerns.
Here are some examples of roof emergencies.
Punctured roof surfaces from fallen tree limbs and other debris
Dents, cracks, and holes from hail damage
Cracks and water leaks from heavy rains and floods
Leaks from backed-up water under shingles as a result of ice dams
Blown off or lifted shingles from severe wind damage
Not all people consider leaks as a roof emergency, and it takes time before they consider making repairs or replacements. However, a leaking roof can quickly become a major problem if left unchecked for a long time. Water may seep into walls, ceilings, and the heating, ventilation, and air conditioning (HVAC) units, causing expensive-to-repair damages. Additionally, the presence of moisture in the house creates a conducive environment for mold and mildew growth which pose a risk of respiratory problems, breathing difficulties, allergies and irritations, and asthma attacks. Therefore, you should treat leaks as a roofing emergency and deal with them immediately.
When dealing with a roof emergency, you should act as fast as possible to mitigate the effects of the damage as you wait for professional roofing services. Here are some steps you can take to deal with a roofing emergency depending on the type of damage.
One of the most common ways of dealing with cracks and leaks is covering the affected area with a tarp or plastic sheeting. That will prevent water from entering the home and causing further damage. You should cover the plastic sheeting or tap with nails or weights to prevent it from blowing away. Another step you can take is clearing any debris, such as branches and leaves, from the damaged area, as they can clog gutters and downspouts, causing overflows.
Blown off or lifted shingles from weather damage is a serious issue that requires you to contact emergency roofing services immediately. Efforts to handle it by yourself may not have a significant impact on protecting the property. However, here are some steps to mitigate the situation as you wait for an emergency roofer.
Inspect the severity of the damage to determine how many shingles are missing and whether there is an underlying issue that poses an immediate safety risk.
Secure any loose shingles to prevent them from blowing off and causing further damage.
Cover the affected area with a tarp or sheet to prevent water and debris from entering your house.
Note that do-it-yourself measures such as patching holes and covering the roof with plastic sheets or tarps don't offer a permanent solution. They should only act as temporary damage control steps for emergency repair.
A roof's lifespan depends on the quality of materials used, maintenance and care levels, and the climatic and weather conditions of an area. On average, it should take about 15 to 20 years to replace a roof. However, emergencies may require roof replacement sooner to prevent more damage or ensure the safety and comfort of all occupants of the house.
As the name suggests, the job of emergency roofers is to respond to roof emergencies and provide immediate repair and replacement services. They provide 24/7 services, and you should contact them immediately if you experience severe damage from harsh weather or at the first sign of leaks.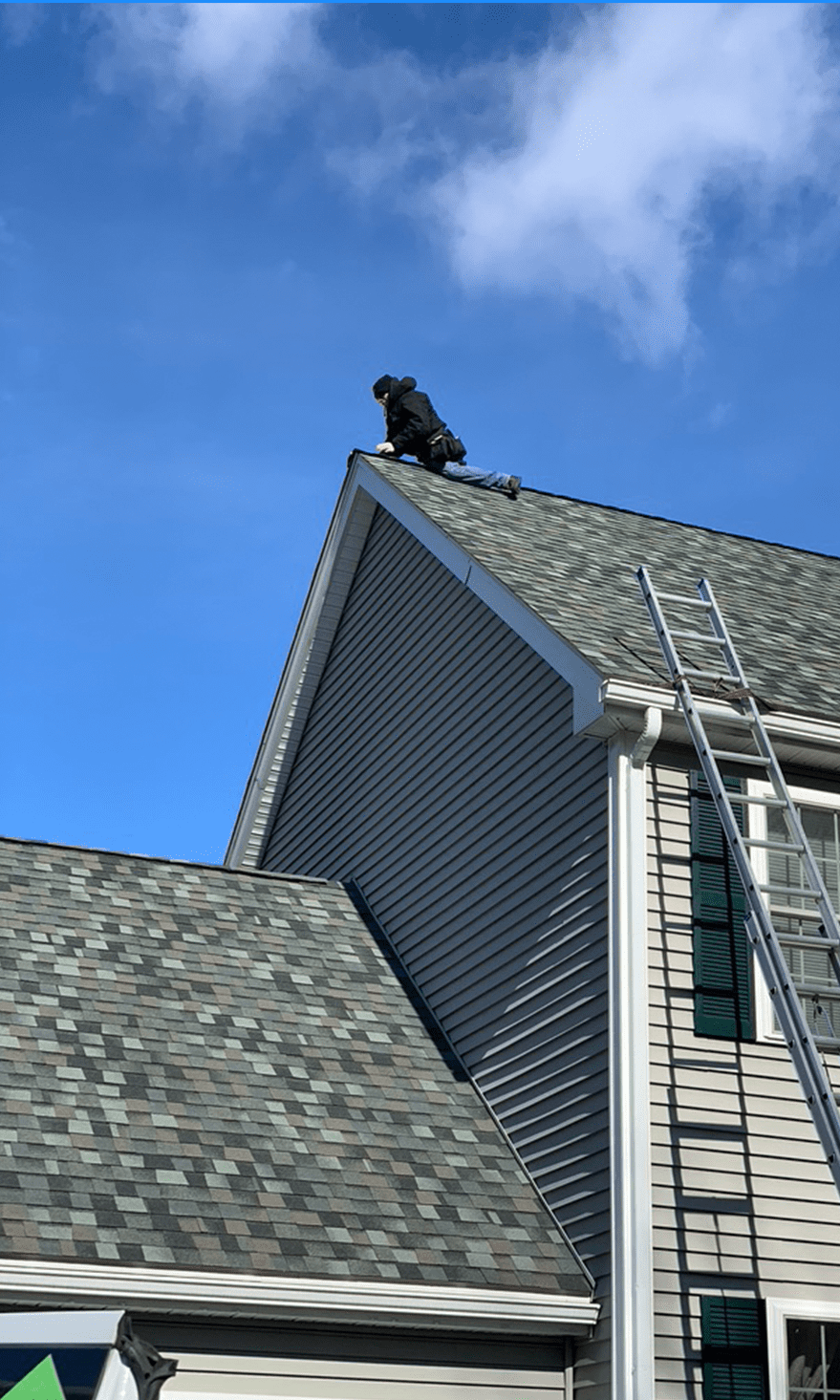 Below is an overview of the roof repairs we offer:
Temporary Emergency Repair: They provide temporary repairs after weather damage to allow you to continue using your home as you figure out a permanent solution, such as a replacement.
Inspection Services: They offer inspection services to check whether there are any damages or likelihood of one and make recommendations for repair.
Roof Replacement: They provide replacement services to institutions where the damage is extensive, or the roof has reached the end of its lifespan.
Gutter Repair and Cleaning: Emergency roofers repair and clean gutters to prevent water damage and leaks.
Emergency roofing repair services provide many benefits to property owners facing agent roofing issues. They immediately respond to emergencies, ensuring safety and preventing further damage. That can save you money in the long run.
Moreover, roofing emergencies can be dangerous, causing structural issues such as the risk of building collapse. Emergency roofers have professional training and experience in conducting safety operations using their services to help avoid fatal injuries
When it comes to emergency roof repair in Worcester, MA, time is of the essence. A damaged roof can quickly lead to more significant issues, including safety concerns, water damage, mold, and structural damage. That's why it's crucial to have the number of trusted roofing contractors on hand. An experienced emergency roofer can quickly assess the damage and provide immediate repairs, helping to prevent further damage and saving you money in the long run.
Are you a resident of Worcester, MA, or the surrounding areas, and you're looking for emergency roof repair services? Northeast Home & Energy has got you covered. We also provide window installation, insulation, and other services. Contact us today for more information.