As a homeowner, you'll want to take pride in your house. You'll want it to look nice and have a certain amount of curb appeal, which naturally means putting some effort into its exterior. Updating your siding will be a large part of this, as it could be a great home improvement project. At some point, that ends up with you considering siding contractors Worcester, MA.
It's easy to see why. Siding professionals safely install vinyl siding or any other kind of siding you want, letting you enhance your home's appearance. While you could've thought about doing the siding installation yourself, that's more time and effort than it could be worth. So instead, a siding contractor ensures it's as appealing as you want.
At Northeast Home & Energy, we're professional siding contractors in Worcester who specialize in carrying out all the necessary work. From helping you decide the right siding for you to planning and carrying out the siding installation and everything in between, we have you covered.
Let's dive into why you might need to hire local contractors and how you can pick the best siding contractors for your needs.
Whether you're considering vinyl siding or anything else, you could wonder why you'd need to hire a professional. A siding replacement or installation could seem relatively easy if you're good with your hands. So what would you need vinyl siding contractors for? As it turns out, getting professional siding services offers multiple benefits.
The time and effort you'll personally save on this will be the most obvious. Still, high-quality siding services offer more than just this. If you hire siding contractors for your project, you should expect the following:
High-Quality Work
Trained and professional siding contractors ensure their work is of the highest quality on each project. It's built into their reputation, and countless verified reviews will back them up. They could ensure this much better than you could by doing it yourself. It's better off left to the experts.
Certainty With Budget
You'll save on labor costs when doing a project yourself. Still, you'll also need to worry about the cost of the materials. Choosing high-quality materials will naturally mean this expense is relatively high. Do you know exactly how many materials you'll need and use? If you don't, you could end up underestimating it and even ruining some materials. Your budget will get higher and higher. With siding contractors, you can rest assured everything's within budget.
No Mistakes
Unless you've carried out any siding replacement or installations before, you will not have any expertise. That could mean you may make mistakes, which eventually affects quality. Avoiding that is vital to ensuring your new siding lasts as long as possible and doesn't need to be redone.
Save Time
We mentioned above that you could save your personal time by hiring siding contractors, but that isn't the only way time comes into account. With siding contractors, the project should take much less time from start to finish. You won't have to put up with the work being done for long.
Whether it's a vinyl siding replacement or installation, hiring professional siding contractors offers a wealth of benefits. You'll get much more out of your home project than you thought you would. While this comes at a cost, the contractors are more than worth it.
However, you'll need to hire the right siding contractors for your needs. If you've never done that before, it could be difficult. It's worth taking a look at how you can do this.
With how beneficial it is to hire siding contractors for your home improvement project, you'll already be looking for one to pick. To see the full benefits, make sure to hire the best siding contractors in Worcester, MA. There's more to that decision than you might be aware of, especially if it's the first time you're getting a siding installation.
Choosing the right siding contractors doesn't have to be difficult, however. We've found five top factors to make the decision as easy as possible. Paying attention to them when making your decision makes sure you hire the right company for you. Let's dive in.
Warranties
Expert siding contractors will offer warranties on the quality products and work they do on your project. Take the time to figure out what kind of warranty each option offers. If any siding contractors don't offer any warranty, they may be worth avoiding.
At the same time, make sure you know exactly what these warranties cover. The more extensive they are, the better it is for you. It could mean you don't have to pay for some minor – or even major – fixes if anything goes wrong in the future. It'll save you a lot of hassle and money.
Brands & Products Used for Siding Services
You'd be surprised by how many types of siding you can choose, with vinyl siding being one of the more notable. It's far from the only option, however. Stone and cement can also be used for this, with all of the options offering their pros and cons. Be aware of these before making any decisions.
Once you've decided which type of siding you want, you can narrow down your choice of contractors. Some simply won't offer the type you want, while others might be relatively limited in the brands they carry. Use these to narrow down your options further and make a proper decision.
Go with the siding contractors that offer exactly what you want.
Insurance & Licensing
Whether you're getting siding replacement or any other work on your home, you'll have to ensure the company you choose is licensed and insured. There are more than a few reasons for this. First, licenses ensure the siding contractors can carry out the project to a high enough standard, giving you peace of mind.
They could even need to get permits for your vinyl siding, but that could be determined case-by-case. Then there's the issue of insurance. Go beyond just making sure they have insurance. Make sure they have the right type of insurance, including:
Property damage coverage

Worker's compensation insurance

Liability coverage
The more insured they are, the better. It'll give you a little extra peace of mind. Siding contractors should have these in spades, so don't trust any that don't have them.
Costs & Payment Plan
Respected siding contractors will provide you with an estimated cost for the work before you agree to hire them. Make sure you get this in writing to know exactly how much you'll be expected to pay for your vinyl siding. In this estimate, they should outline what goes into this cost precisely, giving you a detailed understanding of everything,
Go through this thoroughly when you're comparing siding contractors. While it shouldn't be the most important factor in your decision, it can still help you make up your mind. At a minimum, you'll know who's outside of your budget when you compare quotes.
Many siding contractors will also let you set up some form of payment plan to have everything done. Get this before agreeing to anything so you can make sure it's an affordable option for you. The better this payment plan is, the more appealing the contractor should be.
Experience
Experience is a vital factor when you're comparing siding contractors. The less of this they have, the more likely they'll make mistakes or not know everything about a new siding installation or old siding replacement. It's always worth going for the more experienced options whenever you can.
Don't just look at how long they've been in business. Instead, consider whether they've worked on your type of home before or anything similar. You can figure out a lot of this by going through their website and finding any photo galleries they have of past projects. The more experience they have with the same type of home as yours, the better.
It should be a sign of confidence in the work they'll end up doing for you.
Choosing the best siding contractor for you can still seem like a complicated process, even when you're paying attention to each of the above factors. You might want a few tips and tricks to make your home improvement project even easier. When it comes to siding contractors, a few notable tips stand out:
Get A Precise Quote –

You can't decide which siding contractors you should choose until you have a quote. It'll be an estimate of how much the entire home improvement project will be. While the term 'estimate' is used, you should ensure this is as specific as possible and accurately reflects how much the finished product will cost. They'll need to visit the site to give you this quote.

Look At Reviews –

The less you know about the siding companies you choose, the more of a gamble you'll take on them. Spend time looking for reviews of their work and figure out whether or not they come highly recommended. While nobody will have all five-star reviews, look for siding companies with the highest possible rating and best reviews, and that will do an amazing job.

Do Your Research –

Reviews will be part of your research on the company you're considering. Still, it's far from the only factor you'll have to consider. Looking into the types of services they offer, how long they've been in business if there have been any complaints about them, and more. The better a picture you can get of them, the better.
You could have quite a few siding contractors to choose from, making the decision relatively complicated. But it shouldn't have to be. Instead, take the time to focus on the above factors and use some tips to make it even easier. Then, your home improvement project and siding replacement will be in good hands.
Now that you know how to pick the right siding contractors, you might wonder why you should choose Northeast Home & Energy for your siding project. While we're a little biased, we know there are more than a few reasons to go with us.
With over four decades of experience serving Worcester, MA, and the greater New England community, we've worked with countless clients in the past. Throughout this time, we've become known for our professional service. We pride ourselves on our expertise, depth of experience, and great customer service.
As we've grown, we've continued to focus on making homes in Worcester, MA, and surrounding areas safer, more comfortable, energy-efficient, and more visually appealing. We can also ensure that your vinyl siding will last decades while still looking amazing. Having been A+ by the Better Business Bureau for over 30 years, we can guarantee great service and high-quality siding, window installation, and roofing services.
Our trustworthy and dedicated team only uses top-quality materials sourced from affordable suppliers. So you can expect excellent workmanship for an affordable cost. Your siding project will be done within your budget, on time, and to a high standard. That's a guarantee.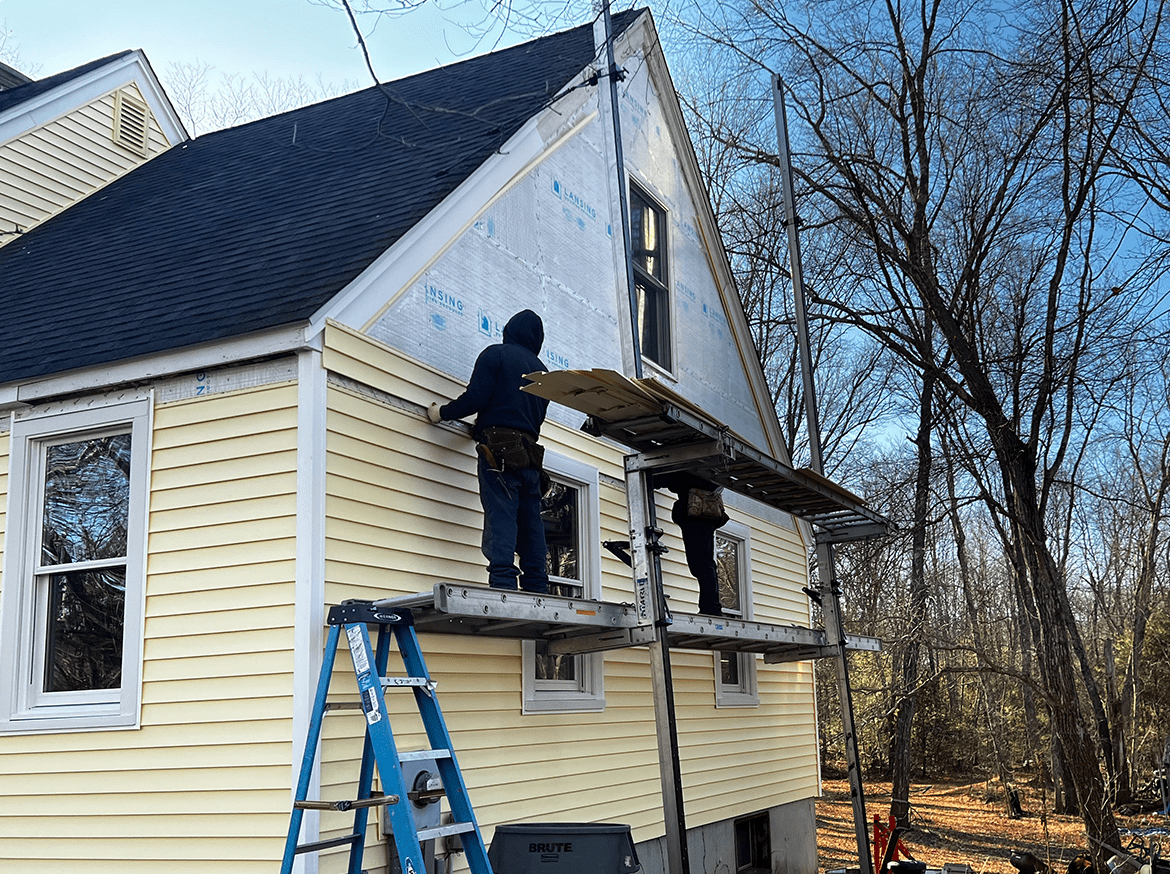 You know you can count on Northeast Home & Energy as your trusted siding contractors in Worcester, MA. Using our specialists in siding replacement and installation will make your home improvement project quicker, easier, and more affordable than you'd think. As top siding contractors, we're sure we'll keep you satisfied.
Call us today at 508-839-7001, and our excellent customer service is more than happy to discuss your future projects. We'll even set up a free quote to help you make up your mind. So what's stopping you from adding a lot more curb appeal to your home? Get in touch with the best vinyl siding contractors in Worcester, MA, today.