Choosing the right material for your home's roof is an important decision. Whether your priority is visual appeal, a long-standing warranty, or durability to withstand the New England climate, we offer a wide range of solutions to satisfy all of these preferences.
As you consider your roofing material options, our roofing experts will speak with you about important factors you should consider: the slope of your roof, material cost, and aesthetics.
We are a GAF Master Elite® roofing contractor. This title means we have proven ourselves to go above and beyond industry standards. When your roof is installed, you are assured a dependable, skillful contractor.
Asphalt Shingles
Most asphalt roof shingles used today are technically known as asphalt fiberglass shingles because of the fiberglass mat embedded in the shingle that provides an extra measure of strength and tear resistance.
These shingles are affordable, easy to install, durable, and available in a wide variety of colors, which makes them the most popular type of roofing for sloped roofs. Premium grades of "laminated" asphalt fiberglass shingles are typically warrantied for 50 years.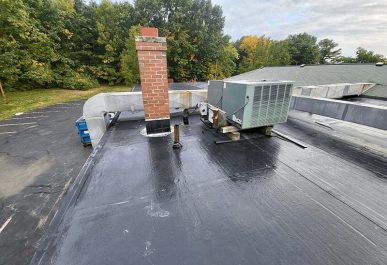 Rubber Roofing
Frequently used for garage and porch roofing, Rubber roofs have a long lifespan and can withstand harsh New England weather conditions.
After years of research and development, there is finally rubber roofing that is thin, dependable, and waterproof. Also known as ethylene propylene diene monomer (EPDM) roofing, rubber roofing is ideal for flat or mostly-flat roofs on homes. EPDM has many benefits, including being resistant to tears, rips, and inclement weather.
Metal Roofing
Metal roofing is durable and has many available styles & colors to complement your home's appearance.
When you choose metal roofing, you decide between factory-formed and finished roofing panels, or roofing panels that are cut and shaped on-site. Metal roofing works best on simple, flat roofs and installation of metal roofing is also non-invasive. Northeast Home & Energy can install most new metal roofs directly on top of your old existing roof with no without the need to remove the old material.
We are proud recipients of the GAF Master Elite® Certification. Only the top 3% of roofing companies are awarded this commendation, which is based on our licensing, insurance, excellent reputation, and commitment to ongoing professional training. Our statues as GAF Master Elite® contractors means you never have to worry about having anything other than a superior roofing experience.